(UPDATE, 2:40 p.m.) A man was arrested on Tuesday after reportedly robbing a bank in downtown Great Falls.
According to the Great Falls Police Department, dispatch received a 911 call from a teller at Stockman Bank located at 25 5th Street North.
A photo from the bank's surveillance video system was shared with a patrol team searching the area.
Within about 20 minutes of the initial report, an officer located the suspect in the 300 block of 1st Avenue South, where he was taken into custody.
The GFPD said that actions by the bank employees helped identify the suspect very quickly.
No injuries were reported during the incident.
The identify of the suspect will not be released until the initial investigation is complete.
We will update you with any new information.
---
(2nd Report, 2:07 p.m.) Several witnesses have told us that the suspect was arrested along 1st Avenue South near Hoglund's and Bert & Ernie's. The suspect reportedly had a backpack and skateboard.
Eric Cappis posted on the KRTV Facebook page: "Got guy outside Bert and Ernies. No incident. We had front row seat."
Courtney Cappis posted: "The suspect did not have a good choice of getaway vehicles….he tried to evade cops via walking and skateboard!"
The identity of the suspect has not yet been released.
We will update you when we get more details.
---
(1st Report, 12:40 p.m.) Police are responding to a reported bank robbery in Great Falls.
Police were notified of the possible robbery at about 12:39 p.m. on Tuesday.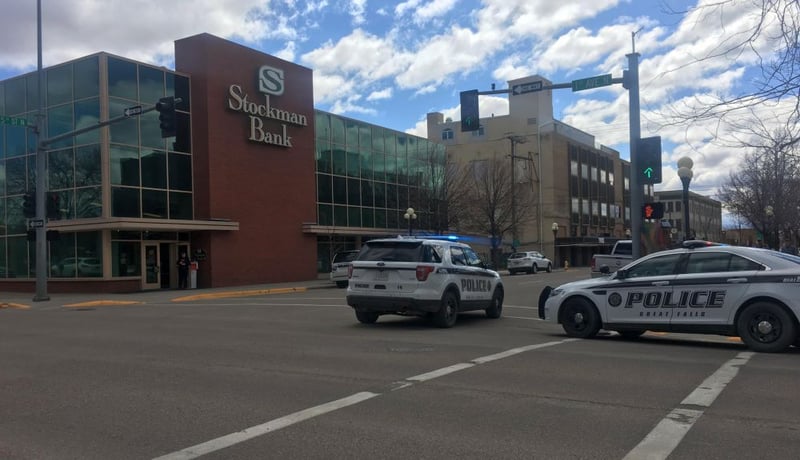 Initial reports indicate that it happened at the Stockman Bank on 5th Street North between Central Avenue and 1st Avenue North.
Police are currently searching for the suspect.
A witness tells KRTV that a police are setting up a perimeter between 5th Street and 6th Street along 1st Avenue North.
People are advised to avoid the area if possible.
No other details have been released at this point, including whether or not the suspect or suspects are armed.
div[data-mml-type="relatedcategory"]{border: thin solid #e7e7e7;} .categories-right-icon{display: none;} .stories-area > hr{margin: 0px;} .stories-area > iframe {border: white;} div[data-mml-type]{ overflow: hidden; } div[data-mml-status="draft"] {display: none !important;} div.fb-post span, div.fb-post span iframe{max-width: 100%;} div[data-mml-type="twitter"].left, div[data-mml-type="instagram"].left, div[data-mml-type="facebook"].left{ float: left; position: relative; overflow:hidden; max-width:100%;}div[data-mml-type="twitter"].right,div[data-mml-type="instagram"].right,div[data-mml-type="facebook"].right{ float: right; position: relative; overflow:hidden; max-width:100%;}div[data-mml-type="twitter"].center,div[data-mml-type="instagram"].center,div[data-mml-type="facebook"].center{ width: 100% !important; overflow:hidden; text-align: center;}div[data-mml-type="twitter"].center iframe,div[data-mml-type="twitter"].center twitterwidget,div[data-mml-type="instagram"].center iframe,div[data-mml-type="facebook"].center iframe{ margin: auto !important;}div[data-mml-type="facebook"].center > span{ margin: auto !important; display: block !important;} .mml-display-none{display: none !important;} div[data-mml-type="gmaps"], div[data-mml-type="youtube"] {position:relative; width:100%; padding-bottom:56.25%;} div[data-mml-type="gmaps"] iframe, div[data-mml-type="youtube"] iframe {position:absolute; left:0; top:0;} div[data-embed-type="clip"],div[data-mml-type="clip"]{position: relative;padding-bottom: 56.25%;width: 100%;box-sizing: border-box;} div[data-embed-type="clip"] iframe { position: absolute;}}div[data-embed-type="social"], {position: relative;padding-bottom: 56.25%;width: 100%;box-sizing: border-box;} div[data-embed-type="social"] iframe,div[data-mml-type="clip"] iframe { position: absolute;}}.frankly-img{max-width:100%;}