LOS ANGELES — Brendan Fehily knew a long time ago he wanted to work in television. He just didn't know the overnight success story would take almost two decades.
"This was actually my very first love," said Fehily, on location in California as a writer for the CBS smash drama NCIS. "I attempted to do this right out of college and failed spectacularly."
Fehily earned his television start 17 years ago in Billings as a news reporter. Much to the surprise of actor and co-worker Wilmer Valderamma, who plays Special Agent 'Nick' Torres on the show.
"A news reporter?" Valderrama smirked while being interviewed about his work with Fehily. "Oh man, that makes so much sense. I didn't know that, but now that I do…"
Now that he does, Valderrama wants to interrogate. He calls for Fehily, a few feet away monitoring a lake-side sequence for the show.
"I have a question," Valderrama forwardly presents. "You were a news reporter?!"
Fehily seemed as surprised as anyone that Valderrama wasn't aware.
"You didn't know?!"
"No!" Valderrama laughed.
Then 'Torres' demands a little reporter show-and-tell, so Fehily plays along, recalling his archive of reporter questions.
"I just want to take a couple minutes of your time," Fehily says empathetically, "Do you know your neighbors? Did you see what happened over here?"
"I did. I really did," Valderrama responds, playfully overcome by emotion. "He's the nicest guy. What was your question?"
They both break into laughter.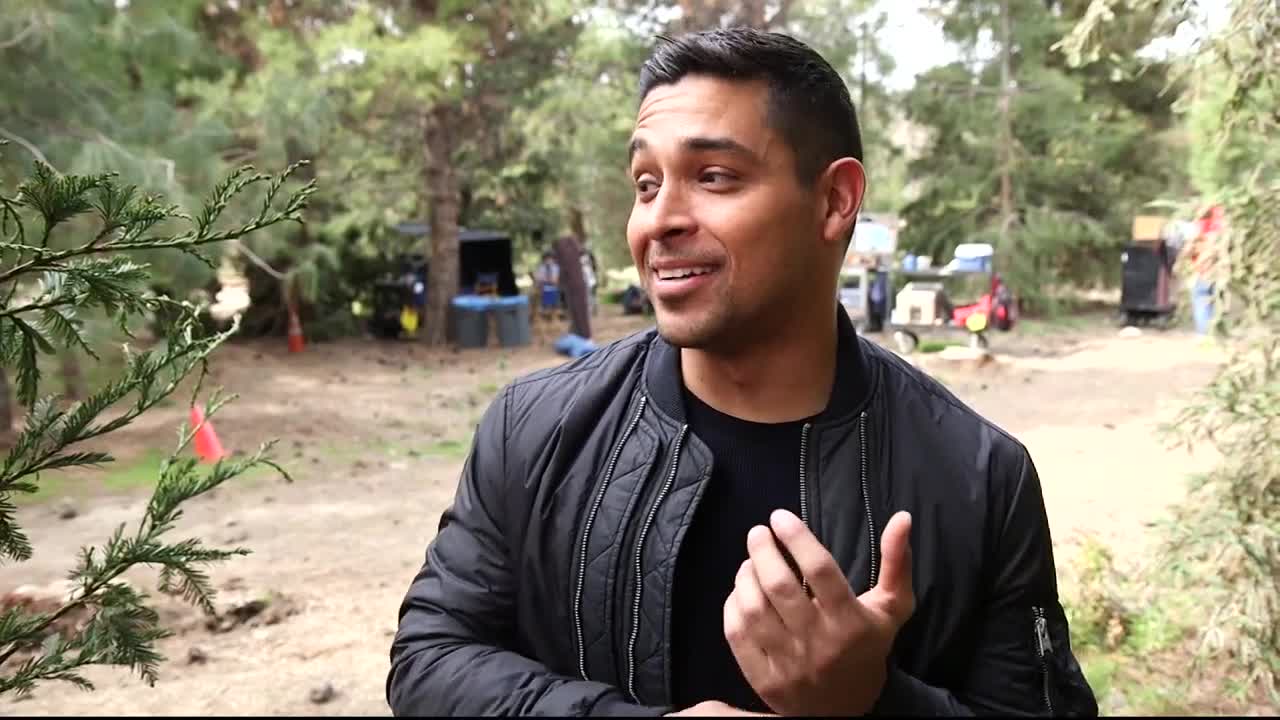 Wilmer Valderrama. MTN News
Almost two decades after reporting for the NBC TV affiliate in Billings, Fehily is wrapping up his third year of writing for NCIS. He's responsible for creating three shows a season, each idea hatched on a white board in his office on the studio lot.
Fehily's latest episode title is a fantastic play on words: 'Sight Unseen.' Though he admits catchy, intriguing titles rarely just 'come to mind.'
"This title came out of many failed titles. I won't go through the bad ones," he smiles. "This was an idea about a blind woman who witnesses a crime."
Fehily's office is decorated with momentous, including an on-location picture of his first episode signed by the cast. Lead actor Mark Harmon had it framed for Fehily after his first script hit the air. A gesture Fehily says Harmon has extended to others, and a sign of collaboration between writer and actor.
"I love it when actors come up and give me a line that I wish I had written," Fehily says. "I spent a week trying to figure out what you say (as a character in a particular scene), and you just (he snaps), in five seconds knew, 'If you tweaked that line a little bit, it makes this scene that much better."
"I love his scripts," Valderrama says. "He gravitates toward doing crimes that also have some sort of emotional attachment to it."
"You want to be able to root for somebody," says Fehily.
"Again, I really love being on set with him because we come up with some fun stuff," Valderrama continues. "There's a some really funny Torres moments that he's developed, that's really helped shape the layers of my character, so I'm grateful for that."
Merrilee Talkington plays a blind witness in Tuesday's upcoming episode.
"I think the amazing thing Brendan did, was that he was open to dialog," said Talkington, "because there were a few tweaks here and there, like, 'I think she would actually say this, it's more like this.'"
Fehily's latest work happens to be show No. 350 in the iconic NCIS series, now spanning 15 consecutive years. Only Gunsmoke and Lassie own longer tenures in the history of CBS.
"I feel like I'm kind of cheating," smiled Valderrama. "I just got here two years ago and I'm already celebrating the 350. So, it's very funny that I get to say that, and not everyone else that's not here, Michael Weatherly. Sorry, not sorry. I took your 350 celebration, kid!"
Weatherly played the prominent role of Special Agent Anthony Dinozzo for 13 years before leaving a couple years ago for his own CBS series, Bull.
The main NCIS character is Special Agent Jethro Gibbs, played by Mark Harmon. Fehily says some of his best writing advice, even today, came from Harmon.
"(He said,) A great script, you'd be able to take the names above each piece of dialog out. Erase it. And simply have the dialog. Then, a person that doesn't know who's speaking, who's familiar with our show, would be able to go back, look at the script and say, "That's a Gibbs line, that's a Ducky line."
Tuesday on the Q2 5:30 News, Fehily, Valderrama and Talkington will disclose the appreciation and challenges of accommodating a visually impaired actress on set. And we'll deliver a preview of Tuesday night's NCIS episode, 'Sight Unseen.'"