Henry Sorenson still recalls vividly the energy he felt on campus when Montana State University unexpectedly won a Division 1-AA national football championship in 1984.
The architecture professor, who specializes in architectural drawing, was among the fans that followed the 'Cats in their unlikely journey from the bottom of the Big Sky to the national title nearly 34 years ago. So, he commemorated the enthusiasm in the Bobcat community in the best way he knew how. He designed a T-shirt featuring a cartoon image of the MSU mascot wearing the number one.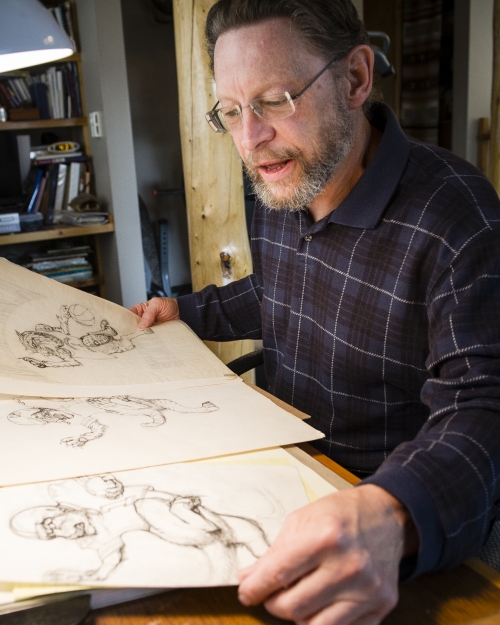 That shirt, popular when it was first designed, has been reissued as part of MSU's 125th anniversary celebration and is now available from the MSU Bookstore, according to Julie Kipfer, MSU's director of marketing.
"What better way to celebrate the 125th anniversary than to highlight one of our professor's iconic designs," Kipfer said. "Re-launching this retro T-shirt is a great way to introduce today's students to MSU's heritage and engage with alumni who fondly remember that time."
The reissue is particularly meaningful for Sorenson, who is known nationally for his hand-drawn architectural renderings as well as for his architectural photography. His rural landscape photograph taken near Fort Benton recently won first place in the American Institute of Architects Photography Competition, and he won a juror award for a watercolor painting in the Architecture in Perspective competition of the American Society of Architectural Illustrators.
But as a hobby, Sorenson has designed T-shirts since he was an undergraduate at the University of Florida, a university with a great football tradition. So it was quite a contrast when Sorenson arrived at MSU in 1983 to implement the School of Architecture's architectural graphics program and the Bobcat football team won just one game in the season. Sorenson said the Bobcats' Cinderella season the following year "was unbelievable." He can still remember sitting in the stands on an 18-degree-below-zero day when the Bobcats beat a visiting team from Arkansas State to advance to the national championship game.
"It was an amazing thing to win a national championship," Sorenson said. "I thought I'd draw a championship shirt for fun."
With the 125th anniversary this year, he suggested to the committee planning the yearlong celebration that the championship shirt might be a way to recall the university's last football championship, and the committee agreed.
Sorenson's shirt, which costs $17.95, can also be ordered online at http://www.msubookstore.org/MerchDetail.aspx?MerchID=1492677&num=0&start=1&end=20&type=1&CategoryName=T-Shirts%20and%20Tanks&CatID=27865&Name=T-Shirts%20and%20Tanks#.Wt-5INPwZTa
In the meantime, Sorenson is still teaching MSU architecture students the importance of hand drawing, which is a lost art in many programs but an important part of MSU's curriculum.
"You can't replace drawing," Sorenson said. "You think differently when you are drawing than when you are sitting in front of a computer."
To learn more about Sorenson's Bobcat shirt, go to http://www.msubookstore.org/ and click on the Retro Cat T-shirt.