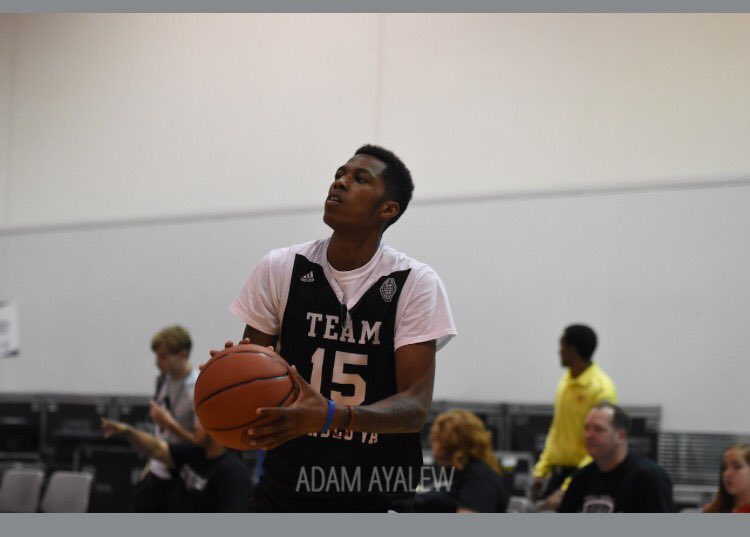 (Instagram photo)
James Hampton, a top high school basketball player from Charlotte, North Carolina, collapsed and died during a Nike Elite Youth Basketball League game on Saturday night in Virginia. Hampton, who played for Team United and was a Class of 2019 basketball prospect, was 17 years old.
"It's hard to even explain," Team United director Jacoby Davis told The Charlotte Observer. "To have a kid in your program with so much life, that's just the kind of kid he was. He was always happy. For something like this to happen, I can't even explain it. And to have to talk to a parent not even in town and tell him that his son has died, well, that's more devastating."
Hampton, a senior at Liberty Heights Athletic Institute in Charlotte, collapsed in the second half while playing against Nike Phamily, a team run by Marvin Bagley Jr., the father of former Duke star Marvin Bagley III. Bagley Jr. was not at the event, the newspaper reported. The team tweeted its "deepest condolences."
Deepest condolences for the young man and his family. No words… ??

— Nike Phamily EYBL™ (@PhxPhamily) May 27, 2018
Davis said that right before Hampton fell, the player said "Hey ref" while looking at an official. Davis told the Charlotte Observer that Hampton had suffered seizures in the past.
"He just fell down on the floor," Davis said. "He had seizures a year ago, and I remember [one of the Team United coaches] telling me that, 'I saw his eyes rolling back in his head.' I ran on the court thinking he was having a seizure. A trainer came over and said he didn't know what was wrong. Another trainer checked his pulse. He said he didn't have a pulse. It got crazy after that."
NBA Hall of Famer Scottie Pippen was at the game. Pippen, who has a son playing for another team in the tournament, tweeted:
Emotional day at Nike EYBL in Virginia after the passing of James Hampton. My thoughts go out to the young man's family, friends and teammates. RIP, James. ???? pic.twitter.com/E2fhTIHCqA

— Scottie Pippen (@ScottiePippen) May 27, 2018
Davis said that despite the tragedy, the team will finish the tournament Sunday, to honor Hampton.
"They want to play Sunday," Davis said. "They really want to finish it up. The coaches are just torn up right now. So it's going to be tough, but it's what the kids want to do."
Last year, Hampton wrote on Twitter, "Family depending on me , can't stop now. In couple years it's won't be Section8 living."
© 2018 CBS Interactive Inc. All Rights Reserved.