Timothy Allen Weaver was sentenced in federal court in Great Falls on Tuesday for sexual exploitation of a child and receipt of child pornography.
Judge Brian Morris sentenced Weaver to a total of 500 months (41.6 years) in prison, followed by lifetime court supervision.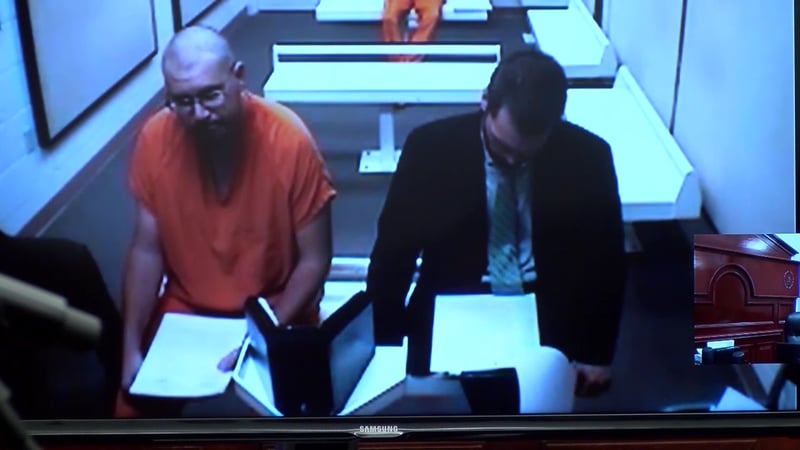 Morris sentenced Weaver to the federal Bureau of Prisons for 360 months each on two counts of sexual exploitation of a child; the two terms are to run concurrently.
Morris also sentenced Weaver to 140 months in prison on a count of receipt of child pornography; that sentence will run consecutive to the other sentences.
If and when Weaver is ever released from prison, he will be placed on supervised release for the rest of his life.
In its sentencing memorandum, prosecutors said that Weaver "engaged in a repeated pattern, covering a period of approximately five years, of sexual exploitation of (the) child. He violently abused the child victim multiple times per week, including choking. During the abuse and humiliation, the victim would close her eyes and cry."
"The efforts of the Cascade County Sheriff's Office in promptly searching Weaver's residence and then requesting the assistance of the Montana Internet Crimes Against Children Task Force and HSI have not only rescued this child from Weaver's on-going abuse but it also protected other children from victimization." said U.S. Attorney Kurt Alme.
Because there is no parole in the federal system, the "truth in sentencing" guidelines mandate that Weaver will likely serve all of the time imposed by the court. In the federal system, Weaver does have the opportunity to earn a sentence reduction for "good behavior." However, this reduction will not exceed 15% of the overall sentence.
---
(AUGUST 23, 2016) Timothy Allen Weaver is facing several felony charges after he allegedly assaulted at least one woman, one child, and a horse.
On August 19th, the Cascade County Sheriff's Office received word that Weaver was possibly abusing the women and children at his home in the Dearborn area between Great Falls and Helena.
Weaver reportedly got into an argument with one of the women at his home last Tuesday, and he pointed a shotgun at her, threatening to kill both her and another woman if they did not "get off of the mountain" where they live.
As the women and their children fled, Weaver doused himself in gasoline and locked himself in the house, according to court documents.
Further investigation by law enforcement officials revealed that Weaver had repeatedly assaulted the women and at least one of their children.
One of the women told officers that Weaver "has a huge sex appetite" and forced her and the other woman into numerous sexual situations that the women did "not approve of," but were forced into.
One of the women also told officers that Weaver photographs the sex acts, and has forced her engage in sexual acts with his black horse.
When officers searched the home, they found a "large volume" of pornography, including home-made pornography; Weaver had a photo of a woman inserting her fingers into the vagina of a black horse.
When interviewed by officers, Weaver admitted getting into an argument, grabbing a gun, and telling all of them to get off of the mountain.
Weaver did not dispute an assertion by a 9-year old girl that he had assaulted her recently.
Weaver also admitted having one of the women engage in sexual acts with a horse, and admitted that he may have photographed such acts.
According to court documents, Weaver said he committed sex acts with the horse "to push the envelope and feel loved."
Weaver also admitted that he was sexually attracted to children; he said that detectives would probably find child pornography in his home.
Court documents allege that Weaver said he knew this was "all wrong," and asked officers to shoot him.
Prosecutors have requested that bond for Weaver be set at $500,000 because of he risk to the victims if Weaver is released, and the flight risk posed by Weaver due to the nature of the allegations.
Weaver has been charged with deviate sexual conduct (felony); solicitation of deviate sexual conduct (felony); sexual abuse of children (felony); assault on a minor (felony); and partner/family member assault (misdemeanor).
Prosecutors note that additional charges are likely once the digital and photographic media is examined forensically.
div[data-mml-type="relatedcategory"]{border: thin solid #e7e7e7;} .categories-right-icon{display: none;} .stories-area > hr{margin: 0px;} .stories-area > iframe {border: white;} div[data-mml-type]{ overflow: hidden; } div[data-mml-status="draft"] {display: none !important;} div.fb-post span, div.fb-post span iframe{max-width: 100%;} div[data-mml-type="twitter"].left, div[data-mml-type="instagram"].left, div[data-mml-type="facebook"].left{ float: left; position: relative; overflow:hidden; max-width:100%;}div[data-mml-type="twitter"].right,div[data-mml-type="instagram"].right,div[data-mml-type="facebook"].right{ float: right; position: relative; overflow:hidden; max-width:100%;}div[data-mml-type="twitter"].center,div[data-mml-type="instagram"].center,div[data-mml-type="facebook"].center{ width: 100% !important; overflow:hidden; text-align: center;}div[data-mml-type="twitter"].center iframe,div[data-mml-type="twitter"].center twitterwidget,div[data-mml-type="instagram"].center iframe,div[data-mml-type="facebook"].center iframe{ margin: auto !important;}div[data-mml-type="facebook"].center > span{ margin: auto !important; display: block !important;} .mml-display-none{display: none !important;} div[data-mml-type="gmaps"], div[data-mml-type="youtube"] {position:relative; width:100%; padding-bottom:56.25%;} div[data-mml-type="gmaps"] iframe, div[data-mml-type="youtube"] iframe {position:absolute; left:0; top:0;} div[data-embed-type="clip"],div[data-mml-type="clip"]{position: relative;padding-bottom: 56.25%;width: 100%;box-sizing: border-box;} div[data-embed-type="clip"] iframe { position: absolute;}}div[data-embed-type="social"], {position: relative;padding-bottom: 56.25%;width: 100%;box-sizing: border-box;} div[data-embed-type="social"] iframe,div[data-mml-type="clip"] iframe { position: absolute;}}.frankly-img{max-width:100%;}.mce-item-table{word-break: break-all;}