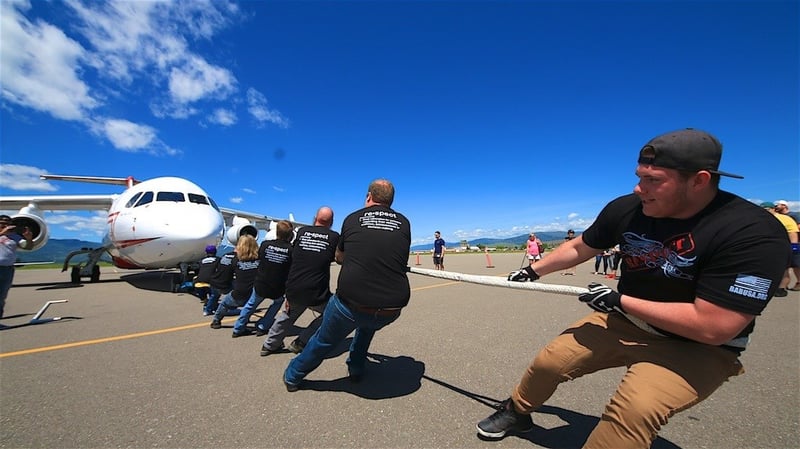 MISSOULA – Did you spend part of your weekend pushing a lawnmower? Pulling weeds? At least you didn't have to pull an entire airplane, but it was all for a good cause.
Take teams of law enforcement officers, businesses, Special Olympics athletes and supporters, then toss in a Neptune Aviation air tanker and you've got the makings of a "fund" afternoon.
The challenge? Be the team able to pull the Neptune jet the fastest. How hard can that be? The course is only 15-feet. It took a firm grip on the tow rope, beefy gloves (also good for high five protection afterward), and a crowd cheering you on to accomplish this "feet", with the objective of helping the next Law Enforcement Torch Run for Special Olympics.
As hard as the plane pull is with the jet weighing some 45,000 it could be worse, at least it doesn't have fuel. That would add another 16,000 pounds.
"Once you get the plane moving it gets going. But getting that plane moving is a hard thing!" said Jerianne Schmidgall with the Missoula County Sheriff's Office Law Enforcement Torch Run.
Some groups got the hang of it quicker than others. At first, the "Bikers Against Bullies" struggled but had recruited all the kids by the end of the competition. Others, like Montana Highway Patrol, brought in some extra uniforms down the stretch.
But at the end, Cascade County Detention officers had the best time at just nine-seconds, followed closely by Missoula County detention and the Missoula Police's "Zootown Blue" team.
"Each team had to pay $500 for an entry fee. The "Muscle Behind the Mission" Special Olympics, they came up with 7-hundred 50-dollars so they get the Grand Prize for raising the most funds. And yeah, it was a great success for the first year.," said.
"Yeah, we were really happy we were asked to host it out here. I want to thank all the people that come out today, and the teams that participated, and Special Olympics Montana and the Law Enforcement Torch Run for sponsoring it. We really appreciate it," said Neptune Aviation Service CEO Ron Hooper.
First Interstate Bank finished in the business category, muscling the jet across the finish line in just 12-seconds on their best run.