The search for Tamara Goff continues in Great Falls. She was reported missing on Friday, July 13th.
Family members released the following message on July 20th:
The family of Tamara "Tammy" Goff would like to thank the Great Falls community, GFPD, and the many friends who have participated in the search and continue searching for Tammy and her 2008 Chevy Colorado. Going forward, we are focusing the search on and near Lower River Road and Wilson Butte Road.
At this time, we are asking that anyone who may have seen Tammy's dog, Sadie, on Thursday, July 12th, or Friday, July 13th, to please reach out to law enforcement to report the siting. The family appreciates any information that is provided and is very grateful for the prayers and good wishes being offered for Tammy's well-being.
The GFPD shared the following information on Monday:
We are still searching for Tammy Goff. Tammy's family and friends, the CCSO, USCBP, and GFPD spent the weekend searching for Tammy and were unsuccessful.
No one has reported hearing from Tammy or seeing her vehicle
Crews have searched the river and the river banks on foot, by air, and by boat
We are continuing to follow up on leads regarding Tammy's phone usage
Tammy's dog, Sadie, was found midday Friday on Hawk Drive, about 4 miles outside of Great Falls city limits. We have received reports of sightings of Sadie earlier on Friday, on the opposite side of the river, at least a mile further to the south. Sadie was wet when she was found and had likely crossed the river at some point
We are asking for anyone with surveillance footage in the area to call Sergeant Mitchell at 406-781-8909
We will keep you updated as we get more information.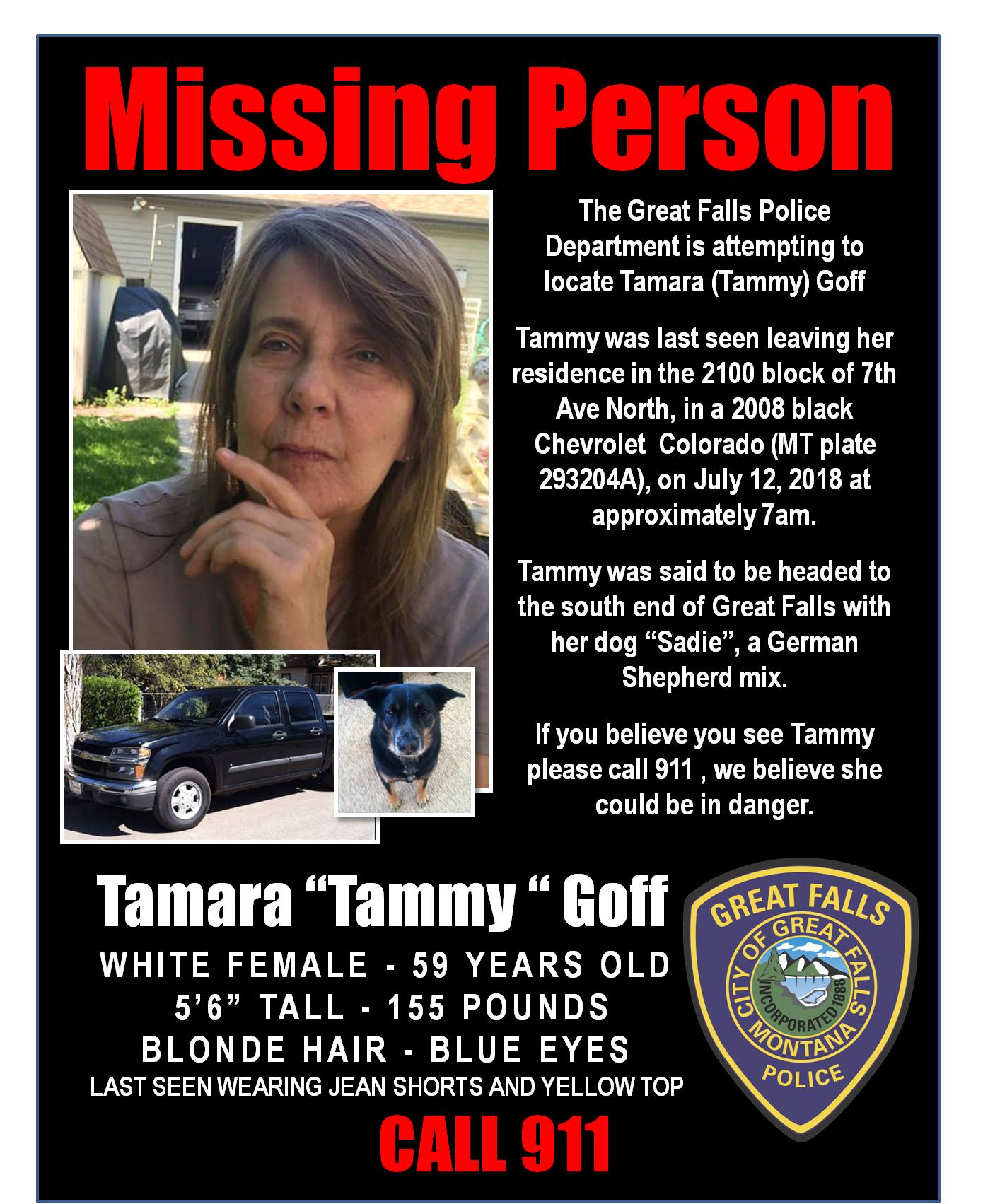 div[data-mml-type="relatedcategory"]{border: thin solid #e7e7e7;} .categories-right-icon{display: none;} .stories-area > hr{margin: 0px;} .stories-area > iframe {border: white;} div[data-mml-type]{ overflow: hidden; } div[data-mml-status="draft"] {display: none !important;} div.fb-post span, div.fb-post span iframe{max-width: 100%;} div[data-mml-type="twitter"].left, div[data-mml-type="instagram"].left, div[data-mml-type="facebook"].left{ float: left; position: relative; overflow:hidden; max-width:100%;}div[data-mml-type="twitter"].right,div[data-mml-type="instagram"].right,div[data-mml-type="facebook"].right{ float: right; position: relative; overflow:hidden; max-width:100%;}div[data-mml-type="twitter"].center,div[data-mml-type="instagram"].center,div[data-mml-type="facebook"].center{ width: 100% !important; overflow:hidden; text-align: center;}div[data-mml-type="twitter"].center iframe,div[data-mml-type="twitter"].center twitterwidget,div[data-mml-type="instagram"].center iframe,div[data-mml-type="facebook"].center iframe{ margin: auto !important;}div[data-mml-type="facebook"].center > span{ margin: auto !important; display: block !important;} .mml-display-none{display: none !important;} div[data-mml-type="gmaps"], div[data-mml-type="youtube"] {position:relative; width:100%; padding-bottom:56.25%;} div[data-mml-type="gmaps"] iframe, div[data-mml-type="youtube"] iframe {position:absolute; left:0; top:0;} div[data-embed-type="clip"],div[data-mml-type="clip"]{position: relative;padding-bottom: 56.25%;width: 100%;box-sizing: border-box;} div[data-embed-type="clip"] iframe { position: absolute;}div[data-embed-type="social"] {position: relative;padding-bottom: 56.25%;width: 100%;box-sizing: border-box;} div[data-embed-type="social"] iframe,div[data-mml-type="clip"] iframe { position: absolute;}.frankly-img{max-width:100%;}.mce-item-table{word-break: break-all;}