HELENA — Jessie Field Shambaugh. You've most likely never heard of her – but she will forever be enshrined as a prominent figure of Montana.
This idea came to me after spending a summer playing baseball for Clarinda A's Baseball program in Southwest Iowa. A small town of 5,000 residents, the seat of Page County, nestled about 20 minutes from the northern Missouri border.
My host family lived on its 100-year-old family farm in a town named College Springs. My 30-minute commute to games each day drove me through a town named Shambaugh. Nights on the back porch talking with my host dad, Jake about the history of the area led us to the origin of the name.
Shambaugh, the married name of Jessie Field, after her husband is where it came from.
It led to me telling him about my past of being an Antelope 4-H sheep member in Tehama County, California.
Jessie Field Shambaugh is one of the early founders of the 4-H organization.
I visited the Nodaway Valley Museum where a massive 4-H display sits. In my time visiting, I learned that the founder, Jessie Field Shambaugh was a Helena, Montana principal.
My current research on her time in Montana led me across the state of Iowa and Montana. In the Midwest, everyone knows her name. In Montana, the response was a whole lot different.
Countless phone calls and reaching out to the MSU Extension offices around the state and historical societies led to the same answer, "We'll get back to you."
I never heard back. So, I kept digging and one phone call led me to Ellen Baumler, a historian with an office in Reeder's Alley at History Takes Time.
We put our heads together to track down Jessie Field's stint as a principal at Jefferson School in Helena.
"It's sad. You know, 4H is big here in Helena. Most kids are involved, or many kids are involved in 4-H. I don't think that they have any clue that one of their founders, taught school here," exclaimed Baumler.
Ellen did some digging for me, and she took me to the start of the story. The Grandstreet Theatre was the former site of a Unitarian Church at the turn of the 20th Century.
"Jesse's sister became the education director for the Unitarian Church."
A progressive church that was home to a large congregation, Helen Field, a principal at Jefferson School before 1903, married and became an education director at the church.
Helen may have had a more lasting impact on Helena when she befriended Clara Hodgen, the wife of the church minister at the time. The two both valued educating children and creating a space for them to learn. Upon Clara's passing, Helen, a published author wrote a poem in her memory, one that still circulates today.
It's pretty fitting that Jessie's sister Helen was an advocate for education.
"Jesse and Helen, they were very into teaching children to do things they didn't think they could do," Baumler said.
The exact timeline is unclear of when Jessie was in Helena. We suspect 1903-1906.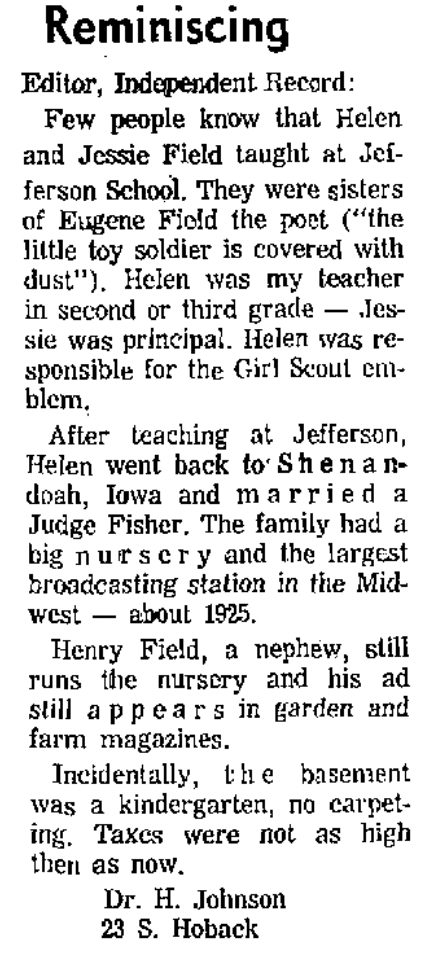 Through all this research and with the help of family and friends in Page County, Iowa, we were able to track down the great-granddaughter of Jessie Field.
Tatum Watkins.
Tatum, a Senior at Clarinda High School in Clarinda, Iowa, does a major portion of the research on her late great-grandmother. Far beyond her years, she was able to narrow down the timeline, but as they don't know much, she was able to help us find where Jessie lived in Helena.
"Unfortunately, we don't know as much as I would love to know. This morning I tried to research a bit. I did find out where she lives in Helena. I thought that was entertaining." She explained.
Posted in the Helena Directory from the period, it says Jessie lived at 212 7th Street, a few blocks from downtown Helena.
Ellen and I visited around town, which, was our next stop.
"It would have been just a single room. And the family lived here. It was very, very common in the neighborhood for families to take in single women."
At the time, finding a safe place to live as a single woman was practically unheard of. Ellen assured me that based on the neighborhood's history, it would've been a safe place for her to live. The home in its current state has been turned into four separate apartments, but in Jessie's day, it would've been one complete home.
After Jessie Field left Montana, she became a major advocate for the YWCA, an organization that was founded to create a safe space for women to live. She was a major proponent for YWCA chapters around the Midwest. Helena has its own YWCA location that sits a block or two from the Grandstreet Theatre.
When Jessie arrived in 1903, it was after her sister Helen married, and she then replaced her sister as principal. At the time, Jessie was a fresh college graduate from Tabor College in Kansas.
"I think this was a great stepping stone for her. I think she realized, unlike a lot of women who weren't career-oriented, I think Jesse was very career oriented and wanted to do wonderful things, and she did." Baumler said.
Jefferson School looks much different than it did over 100 years ago, but the hill that sits behind the present site is where the schoolhouse Jessie would've managed. Field was used to a one-room schoolhouse like she started in at Goldenrod School in Page County, Iowa. Gaining the "big city" experience would've helped propel her as she returned home as Superintendent of Page County Schools.
Jessie Field Shambaugh's 4-H idea didn't begin until after she returned to Iowa, but we suspect that her agriculture education advocacies rubbed off in a territory like Montana.
She created the modern four-leaf clover design we know today. Before that, the club was called 3-H and later added the fourth H, the one still in play today.
Jessie's granddaughter, Tatum talked about her as if she was just telling her story, but through more research and each time she learns something new, she feels like she gets one step closer to knowing her late great-grandmother.
"It's incredible to be related to someone that even though I never met her, I feel like I know her in some ways because every time I do research about her, I feel like I learn something that connects me to her."
Those that didn't know Jessie yesterday, may take a little more pride in that clover we keep near our kids' hearts, today.
Baumler added, "Who knows? Maybe I'll even write about her someday."
Throughout the entire research process, we reached out to numerous sources to help track down any history of Helen and Jessie. The numerous times we reached out to Jefferson School and the Helena School District, they had no knowledge of where their historical records were located.
The Montana Historical Society is under renovation and unable to help with research.
I want to thank Ellen Baumler for helping me through this entire process. More importantly the Watkins family for allowing me to share Jessie's story.
To this day, the Clarinda, Iowa community supports me in all my endeavors.
If this story helps share one of their prominent figures' impacts on society, it's the least I can do.
If you have any knowledge of Jessie Field Shambaugh in Helena or a story you'd like to share with me about her. I would love to find out more and do a follow-up story with you. Send me an email at Ryan.Gamboa@krtv.com.
Questions or comments about this article/video? Click here to contact Ryan.

---
TRENDING
FOLLOW KRTV: Instagram | TikTok | Twitter
---
---